Terry Waller (below) developed the Water for All Method, a.k.a. 'Baptist Drilling Method,' over many years as a Baptist missionary in Equatorial Guinea and Bolivia, because water was such a critical need for the people he knew.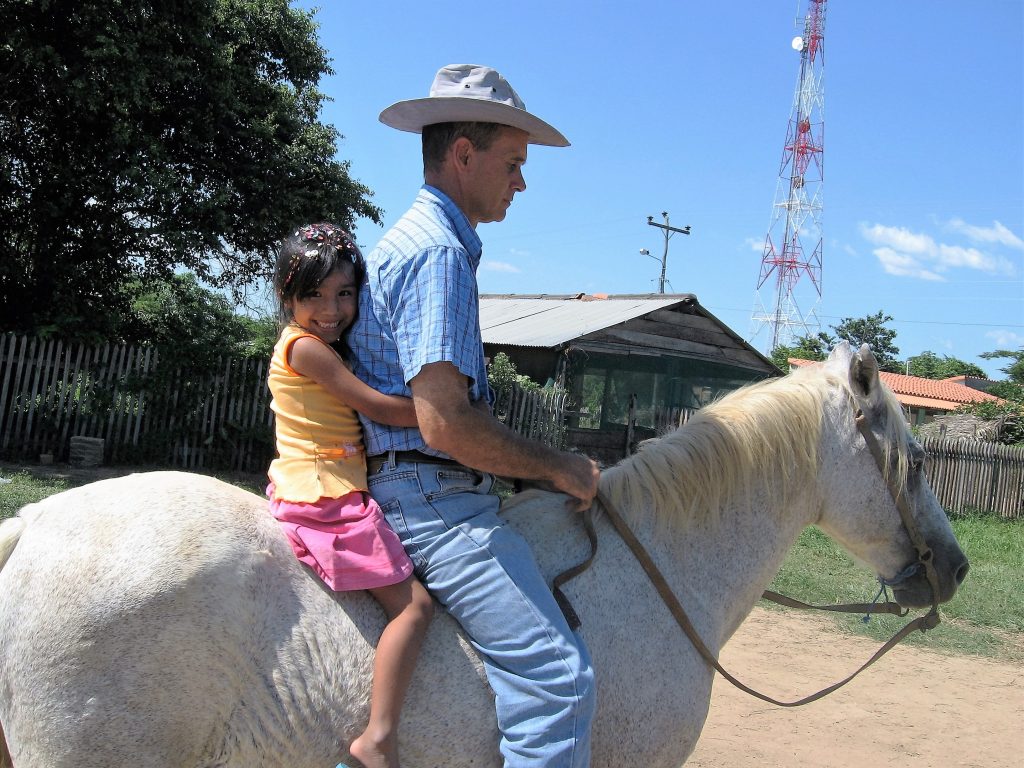 After long years of perfecting, today the WFA method is an effective and locally reproducible way to make homestead water wells. This method is now taught to missionaries (mostly), who bring the method to needy countries around the world. Minor adaptations are made in accordance with countries' differing cultures, available materials, soil types, etc. The idea is that the local labor force is mobilized to make and maintain their own water assets.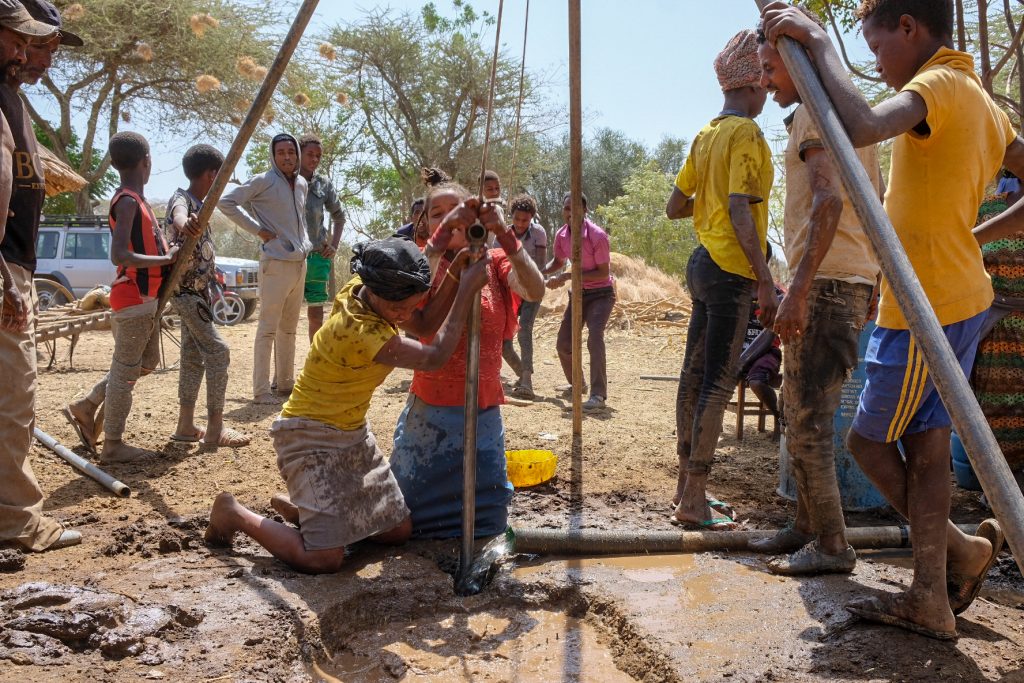 The short term goals are to continue making hundreds of good, locally-maintainable family wells and pumps, and to enjoy relationship with those communities.
The very long-term goal is that our technology will become common local know-how, so that rural communities will handle their own water needs. This goal can only be achieved through a long-term, constant presence among a people.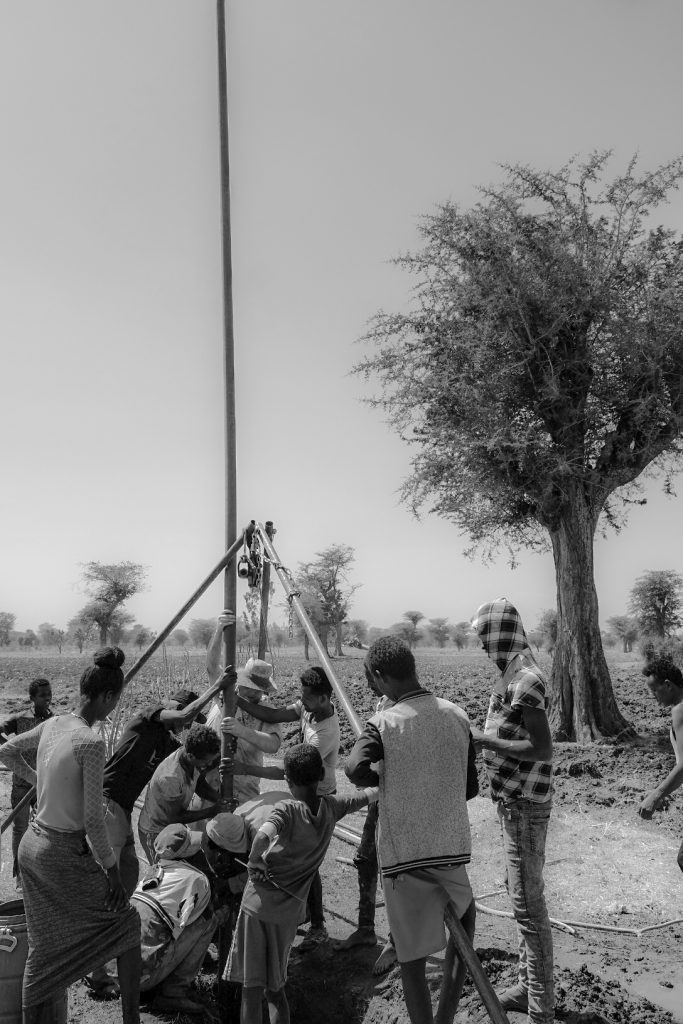 WFA Method highlights
The work is manual, so it is more manageable and reproducible in the domestic rural context than large machines.
All necessary materials are affordable even for the farmers who would use them. This includes drilling tools and pump parts.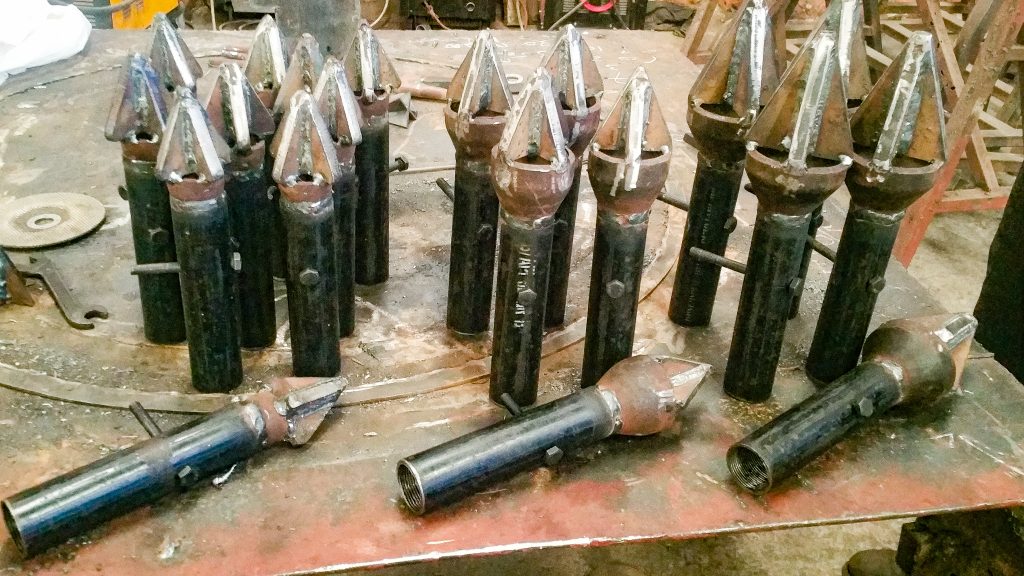 All materials are portable. They can be carried by hand, horse cart or donkey. Therefore, we go where machine rigs can't go — off road, to people's homes.
The process involves personal investment of time and funds by those who would receive wells and the process ends with their personal ownership of a well at their house. We think this is wonderful, because 1) their new household asset will be earned in dignity; not received as a handout, 2) the personal investment ensures that initiative will be taken to maintain the well, and 3) a water well in their own compound means that they (and their kids) won't have to lug jerry cans, which saves their time and their backs.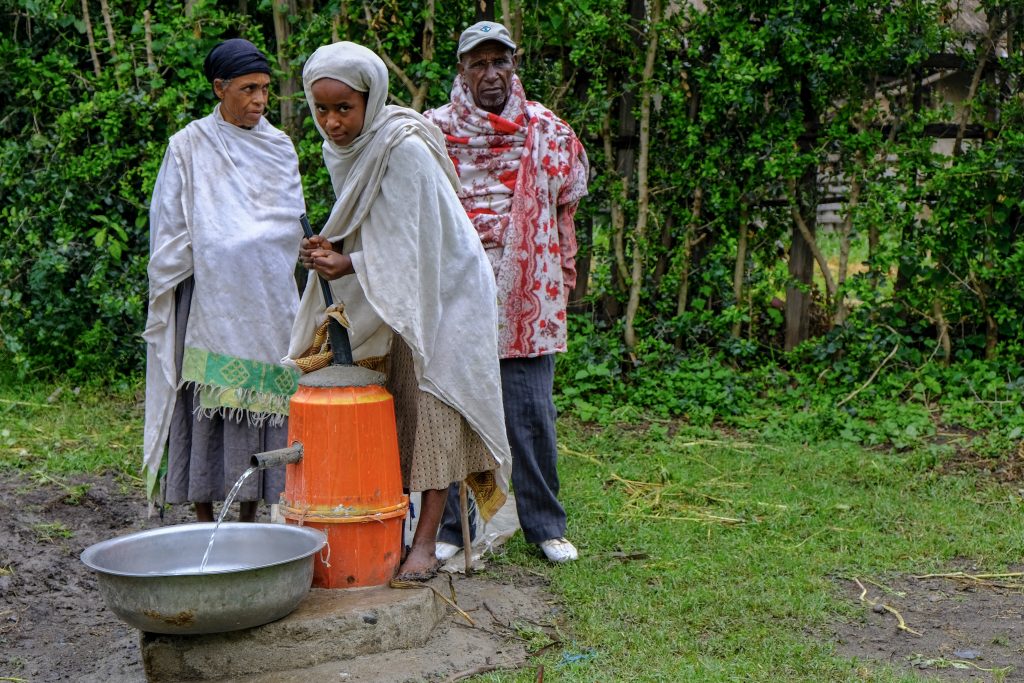 The pumps are designed for simple, affordable maintenance so that well owners can easily replace worn parts and keep their wells working indefinitely, and the well owners are trained to do so.
The labor of drilling is provided by the people who get the water wells at their houses, through groups coined "well clubs" (again by Terry). The method thus empowers the community through a practical learning experience to move closer to more appropriate dominion over their environment.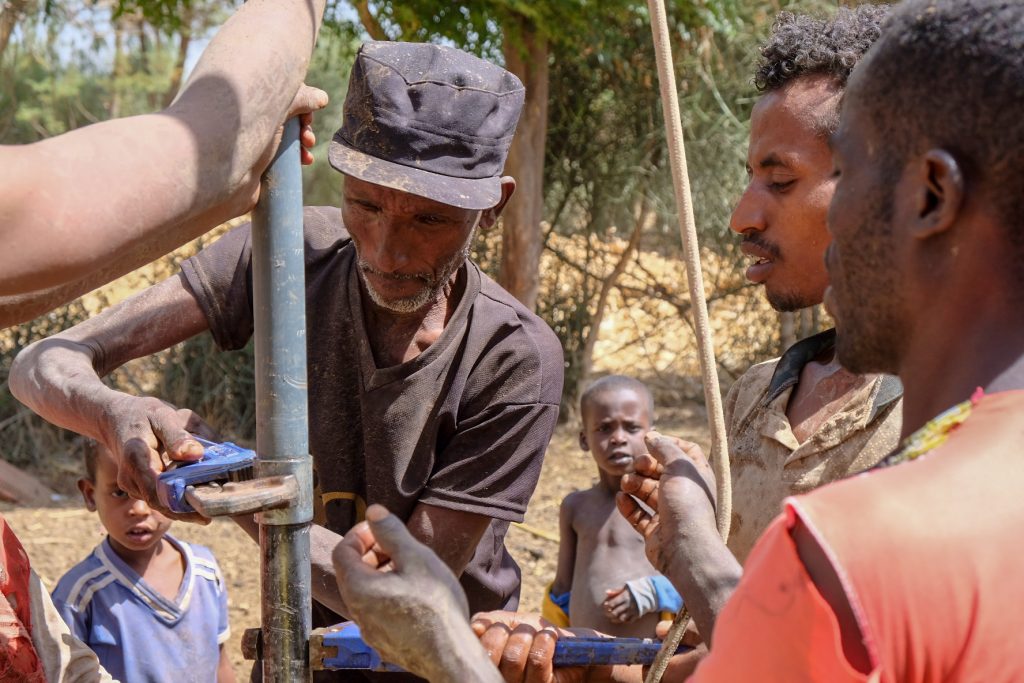 Well Clubs
Below is a gathering of 30 heads of household and a few local government officials. This is a well club orientation meeting.
A well club is a group of ten heads of household. Their names will be written down on a list. When a club begins, they will work together on a full time (or more) basis until the club is finished. A club is finished when ten water wells are completed, one at each member's house.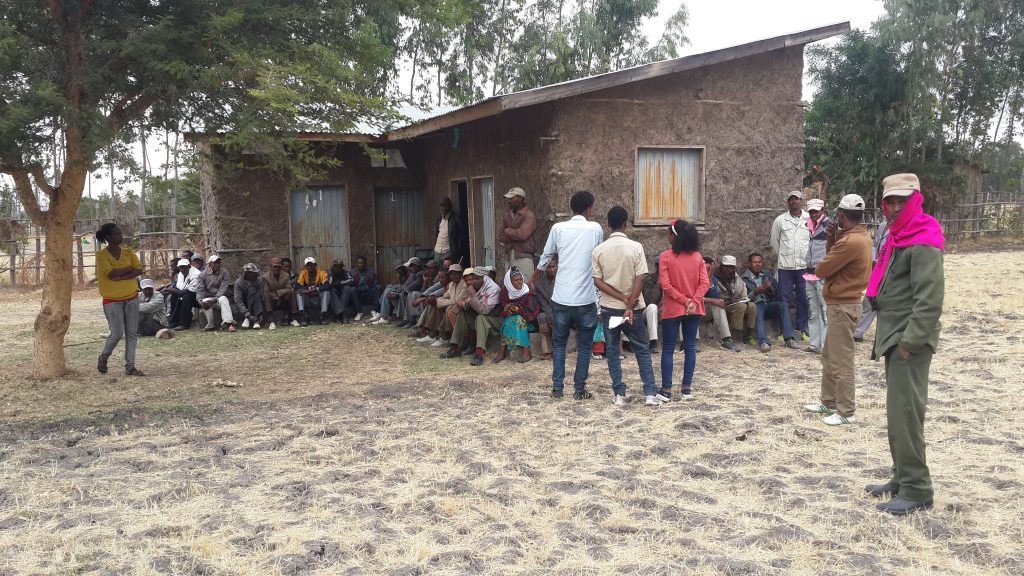 These agreed rules ensure the functioning of a well club:
1. Every member will purchase for themselves certain materials for their own household water well as a personal investment.
2. Every member will provide one laborer daily (either themselves, a family member, a neighbor or a hired laborer) usually six days a week until the club is finished.
a. A member (or his laborer) who is late to the work site without club consent will pay a predetermined fine to each of the other club members.
b. A member (or his laborer) who is absent on a work day without club consent will pay a double fine to each of the other club members.
With these rules, the clubs are motivated and are able to self-govern so that we can simply lead the technical side of things.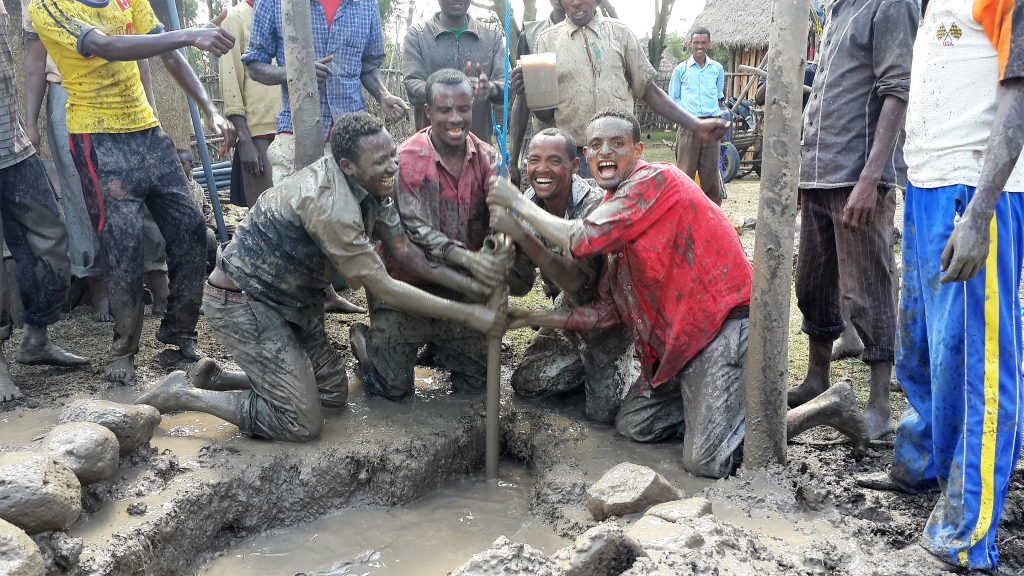 Pictured above is a well club in the process of drilling.
Looks like fun, doesn't it? Once you give up trying to stay clean, it is! It is a challenging, cooperative adventure through which friendships are made, skills are learned, characters are tested, and dignity is gained because it involves hard work and personal investment, and results in a truly life-changing accomplishment. The sense of common achievement at the end of a club is palpable.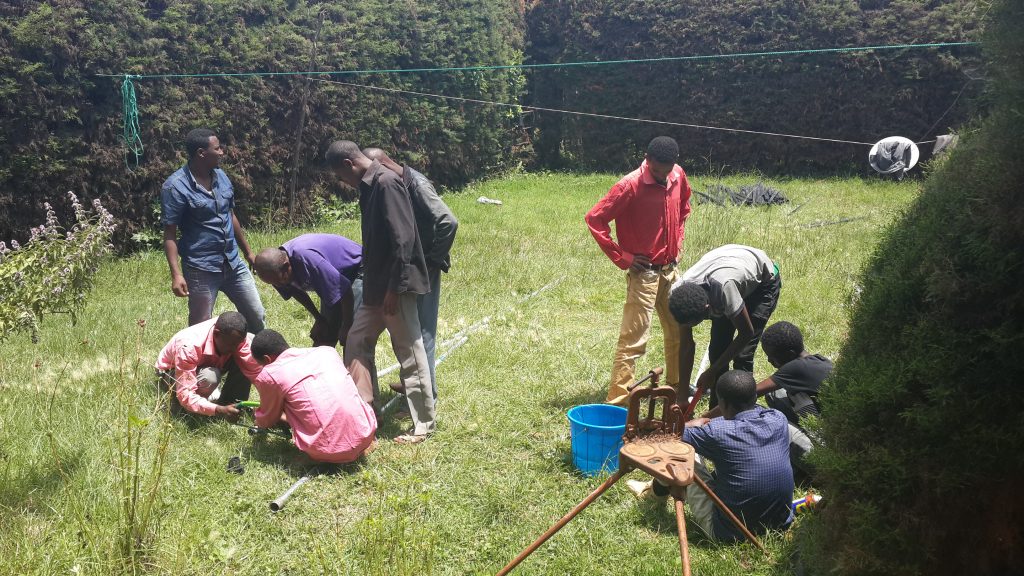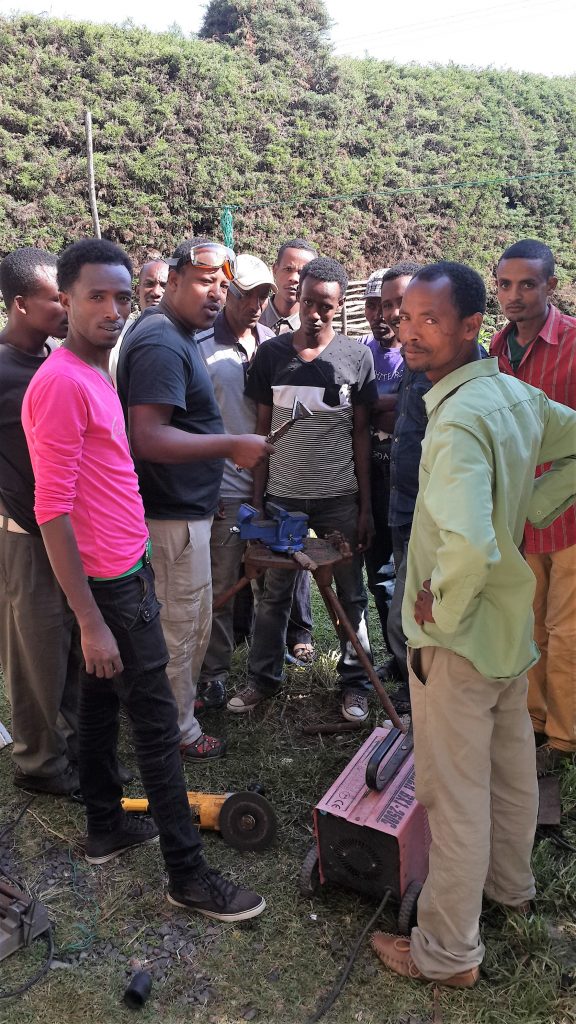 Training
We train nationals to lead because (among many reasons):
1. More clubs can be run at a time; more people can be blessed
2. Christian national leaders can more genuinely connect on a personal basis with the people being served
3. We want our technology to eventually become a common local craft
4. Skilled national servant leaders such as these inspire hope among rural communities where life often feels bleak.